Psychoanalyst Dr. Donald Moss published a paper recently comparing "whiteness" to "a malignant, parasitic-like condition," that "renders its hosts' appetites voracious, insatiable, and perverse."
Moss, a professor at the New York Psychoanalytic Institute and the San Francisco Center for Psychoanalysis, published his paper in the Journal of the American Psychoanalytic Association in May.
He wrote, "Whiteness is a condition one first acquires and then one has — a malignant, parasitic-like condition to which 'white' people have a particular susceptibility. The condition is foundational, generating characteristic ways of being in one's body, in one's mind, and in one's world."
He continued, "Parasitic Whiteness renders its hosts' appetites voracious, insatiable, and perverse. These deformed appetites particularly target nonwhite peoples."
Moss declared that whiteness "easily infiltrates even groups founded on the protection of individuals, on democratic principles."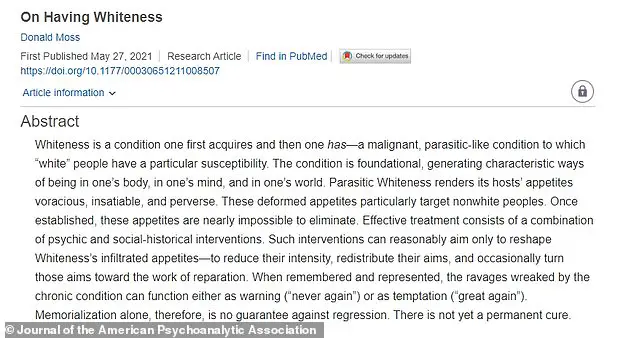 He continued that "effective treatment consists of a combination of psychic and social-historical interventions. Such interventions can reasonably aim only to reshape Whiteness's infiltrated appetites—to reduce their intensity, redistribute their aims, and occasionally turn those aims toward the work of reparation. When remembered and represented, the ravages wreaked by the chronic condition can function either as warning ('never again') or as temptation ('great again')."
Moss previously made the same argument in a public course titled, "On Having Whiteness," from the Center for Modern Psychoanalytic Studies. The center describes Moss as "the author of four books," and is "a recipient of the Elizabeth Young Bruehl award for work against prejudice, 2017."
Some users on Twitter criticized Moss and the journal for publishing the article.
"The Journal of the American Psychoanalytic Association just published a study likening 'whiteness' to 'a malignant, parasitic-like condition' for which 'there is not yet a permanent cure.' This is nuts," wrote one user.
"How do my colleagues consider this scholarship? Anyone actuality take this seriously? #science #psychology On Having Whiteness - Donald Moss, 2021," wrote another.
Imagine if a paper like that was written about any other race. There would be absolute outrage. Yet, because it is about white people, it is acceptable. See the problem?
Rep. Taylor Greene Declares: 'I'm Not Going to Back Down'
Conservative Rep. Marjorie Taylor Green announced that the confrontations with other lawmakers ( such as Rep. Alexandria Ocasio-Cortez) have been blown out of proportion.
Newsmax reports:
Greene last Wednesday confronted Ocasio-Cortez after a congressional hearing, asking her why she supported antifa and Black Lives Matter. On Friday, CNN unearthed a video from February 2019….
Walmart Ditches Mask Mandate for Vaccinated Customers and Staff Only
Good news, Walmart is joining several other stores in stating that the mask mandates are being lifted! However, it's only if you're vaccinated.
My question is, how will they know who is vaccinated and who isn't?  Yikes. We are starting into communist waters...
White House was Reportedly 'Surprised' at Inflation Jump
On Friday, the White House admitted that they were surprised at the inflation jump as customer prices rose in March. It is the largest jump since 2008.
"So we hadn't forecasted that. The forecasters hadn't expected that," said White House Chair of the Council of Economic Advisers Cecilia Rouse.
Dr. Fraud Demands Unvaccinated Students 'Still Wear a Mask' in School
Supreme ruler Dr. Anthony Fauci is trying to rule again with authority that was never bestowed upon him.
On Friday, Fauci appeared on CNN's "Situation Room," and declared that students who do not get the COVID vaccine should be required to "wear a mask."
Host Wolf Blitzer asked, "You've said that elementary school kids, young kids probably won't get vaccinated until the end of this year. So, should kids still be wearing masks when they go back to school this fall?"
Sen. Cruz Calls on Biden to Replenish Israel's Iron Dome Missiles
During his appearance on Fox News Channel, Senator Ted Cruz called on President Joe Biden to replenish Israel's Iron Dome Missiles, which have been used to counteract the numerous missiles being fired into Israel from Hamas terrorists.
Cruz said, "One of the real challenges Israel faces right now is their Iron Dome missiles, the interceptors, are taking out these rockets one after the other after the other. I'll tell you something….
Liz Cheney Admits She Voted for Trump in 2020, but 'Regrets' It
On Friday, Rep. Liz Cheney admitted to ABC News anchor Jon Karl that she voted for former President Donald Trump in the 2020 election. She added that she regrets it through.
Honestly, I am truly shocked to hear that the RINO voted for Trump. As much as she hates Trump and true Conservatives, I would have expected her to sabotage and vote for Biden.
Karl asked, "Did you vote for Donald Trump in 2020?"
Comments
comments