Mercer University theology professor Chanequa Walker-Barnes wrote a prayer, in which she asks God to help her "hate white people."
Girlfriend, I hate to break it to you but if you are praying for hatred, then that means you already have plenty of it. Secondly, God is not a God of hate. If you want more hatred, you need to start praying to Satan....or better yet, perhaps you should pray to God and ask for more love and forgiveness in your heart.
Walker-Barnes published the "Prayer of a Weary Black Woman" in the book A Rhythm of Prayer: A Collection of Meditations for Renewal.
"Dear God, Please help me to hate White people," she wrote."I want to stop caring about them, individually and collectively. I want to stop caring about their misguided, racist souls, to stop believing that they can be better, that they can stop being racist."
The professor did clarify that she is "not talking about the White antiracist allies who have taken up this struggle against racism with their whole lives," or even "the ardent racists" who "plot acts of racial terrorism hoping to start a race war."
"Those people are already in hell," she prayed. "There's no need to waste hatred on them."
She continued on to say that she specifically wants to hate "the nice ones" who "don't see color."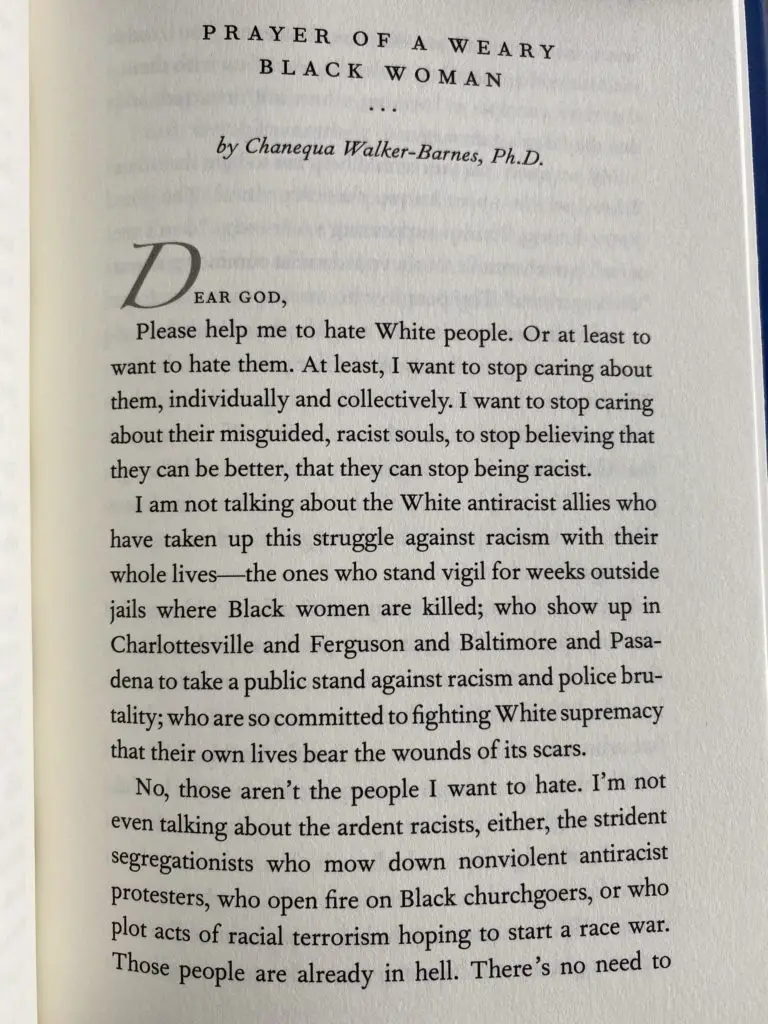 "My prayer is that you would help me to hate the other White people — you know, the nice ones. The Fox News-loving, Trump-supporting voters who 'don't see color' but who make thinly veiled racist comments about 'those people,'" Walker-Barnes wrote.
She continued, "The people who are happy to have me over for dinner but alert the neighborhood watch anytime an unrecognized person of color passes their house. The people who welcome Black people in their churches and small groups but brand us as heretics if we suggest that Christianity is concerned with the poor and the oppressed. The people who who politely tell us that we can leave when we call out the racial microaggressions we experience in their ministries."
"Lord, if you can't make me hate them, at least spare me from their perennial gaslighting, whitemansplaining, and White woman tears," she concluded "Grant me a Get Out of Judgement Free card if I make White people the exception to your commandment to love our neighbors as we love ourselves."
She obviously has no idea how God actually works and that a prayer for hatred falls on deaf ears.
She literally wants to hate nice people simply because they are white....but that's not racist. Huh?
Trending Political News
NBC 'Today Show' Report Shows States with Stricter COVID Policies Experiencing Surge, While Reopened States Dropping
Even the "Today Show" on NBC is realizing these strict COVID policies are not working. The segment was called "COVID Conundrum." They did a report that showed some of the states with stricter COVID policies are experiencing a surge, while some of the reopened states are dropping.
The segment started up with Sam Brock of NBC saying, "Call it a COVID conundrum. In states with the strictest measures in the country, like Michigan, Pennsylvania, and much of New England, cases are on the rise, while in the South, states like Arkansas and Texas that have reopened businesses and ripped away mask mandates are seeing their numbers drop."
Rep. Jim Banks: Border is 'Humanitarian Crisis'
On Friday, Representative Jim Banks declared that the situation at the border is "out of control" and described it as a "humanitarian crisis."
Banks told Newsmax TV about his visit to the border detention facility, noting that it was completely different than his visit last summer which was "pretty calm."
Rick Scott Slams NY's Plan to Aid Illegal Immigrants as 'Insane'
Florida Senator Rick Scott slammed New York and their plan to pay illegal immigrants who lost work due to COVID-19 up to $15,6000. Seriously? They are illegal, they shouldn't be working in the United States to begin with! Are Democrats really so dense?
State lawmakers have already approved the one-time payments, and set up a $2.1 billion fund to use.
Biden, Harris Push Government Mandated AR-15 Buybacks
Make no mistake, Democrats' plan has been to take Americans' guns from the beginning. Both President Joe Biden and Vice President Kamala Harris have called for a government-mandated buyback of AR-15s and other semi automatic rifles.
Interesting....why would they be pushing this agenda so hard unless the government is planning to do something that they know would cause people to use their guns to stop them....
CNN's Lemon: Tucker Carlson Is 'White Supremacist Propaganda'
On Friday, CNN host Don Lemon accused Fox News host Tucker Carlson of mainstreaming "white supremacist propaganda to your neighbors and your family members."
He declared, "We got to talk about what's happening over on the propaganda network, the Fox propaganda network. I don't concern myself of what the other guys are doing. But let me tell you why I am doing this because this is the mainstreaming of white supremacist propaganda…"
Mass Vaccination Event Closed After 11 Suffer Adverse Reactions 
A COVID-19 vaccination site in Denver, Colorado was shut down by public health officials after 11 people suffered adverse reactions to the Johnson & Johnson vaccine.
They couldn't even get baby powder right, what makes you think they would make a safe vaccine?
Former Pfizer VP: 'Your Gov't is Lying to You, Could Lead to Death'
Former vice president and chief scientist for Pfizer, Dr. Michael Yeadon, revealed that the government is lying about the COVID vaccine and described how "demonstrably false" their propaganda is.
He said, "In the last year I have realized that my government and its advisers are lying in the faces of the British people about everything to do with this coronavirus. Absolutely everything…"
TX Mayor: Border Would be Less of 'a Madhouse' If It Had Same Fence as Capitol
During Friday's airing of "Tucker Carlson Tonight" on Fox News, Texas Mayor Don McLaughlin described the southern border as "a madhouse" and added that things would be better if it had a fence like the Capitol does.
McLaughlin said, "Well, it's kind of like the wild, wild west down there. We have car chases on a daily basis. We have immigrants jumping off of trains."
Boehner Calls Jim Jordan a Political Terrorist, Ted Cruz a 'Jerk'
In a preview of an interview expected to air on "CBS Sunday Morning," former House Speaker John Boehner declared that Rep. Jim Jordan is a political terrorist and Senator Ted Cruz is a "jerk."
Host John Dickerson said, "You call some of these members political terrorists."
Comments
comments