Federal investigators raided the apartment former New York mayor and person lawyer to former President Donald Trump, Rudy Giuliani, on Wednesday.
Bob Costello, a lawyer for Giuliani, confirmed that there was indeed a search warrant executed and that electric devices were seized. The warrant is part of a prob into his business dealings with Ukraine.
However, Giuliani revealed that the electronic devices they have were already offered and will prove his innocence for any of the crimes they are hunting for.
"I've known about this for two years, Tucker," Giuliani told Fox News' Tucker Carlson, in reference to a potential raid.
"I could have destroyed the evidence, but I didn't destroy the evidence because the evidence is exculpatory. It proves the president and I and all of us are innocent," he added. "They are the ones who are committing — it's like projection — they're committing the crimes."
Rudy Giuliani joins @TuckerCarlson for his first TV interview since FBI raid. pic.twitter.com/ooMhivzsZt

— Rudy W. Giuliani (@RudyGiuliani) April 30, 2021
"They should be investigated for blatantly violating my constitutional rights, the president's constitutional rights," Giuliani continued. "In the middle of the impeachment defense, they invaded, without telling me, my iCloud. They took documents that are privileged, and they unilaterally decided what they could read and not read.
"The prosecutors, the Justice Department, spied on me, and if that is not taken seriously, if that doesn't result in their being sanctioned, the case being dismissed, and it stopping, this is no longer a free country," he said. "We might as well be in, you know, East Berlin before the wall fell. This is tactics only known in a dictatorship: Where you see a lawyer's records right in the middle of his representation of his client. You should be prosecuted and disbarred for that. You should not be prosecuting somebody else."
"Hunter Biden's hard drives fall within the scope of the subpoena," Giuliani continued. "The subpoena required them to take all electronics. They decided to leave that behind. They also were completely content to rely on my word that these were Hunter Biden's hard drives. I mean, they could have been Donald Trump's. They could have been Vladimir Putin's. They could have been anybody's. But they relied on me, the man who had to be raided in the morning."
"The reality is that warrant is completely illegal," he added. "The only way you can get a search warrant is if you can show that there is some evidence that the person is going to destroy the evidence, or is going to run away with the evidence.
"Well, I've had it for two years and haven't destroyed it, and they also got it from the iCloud. So, there was no justification for that warrant. It is an illegal, unconstitutional warrant," Giuliani concluded.
Trending Stories
[Yes or No] Did You Vote For Trump?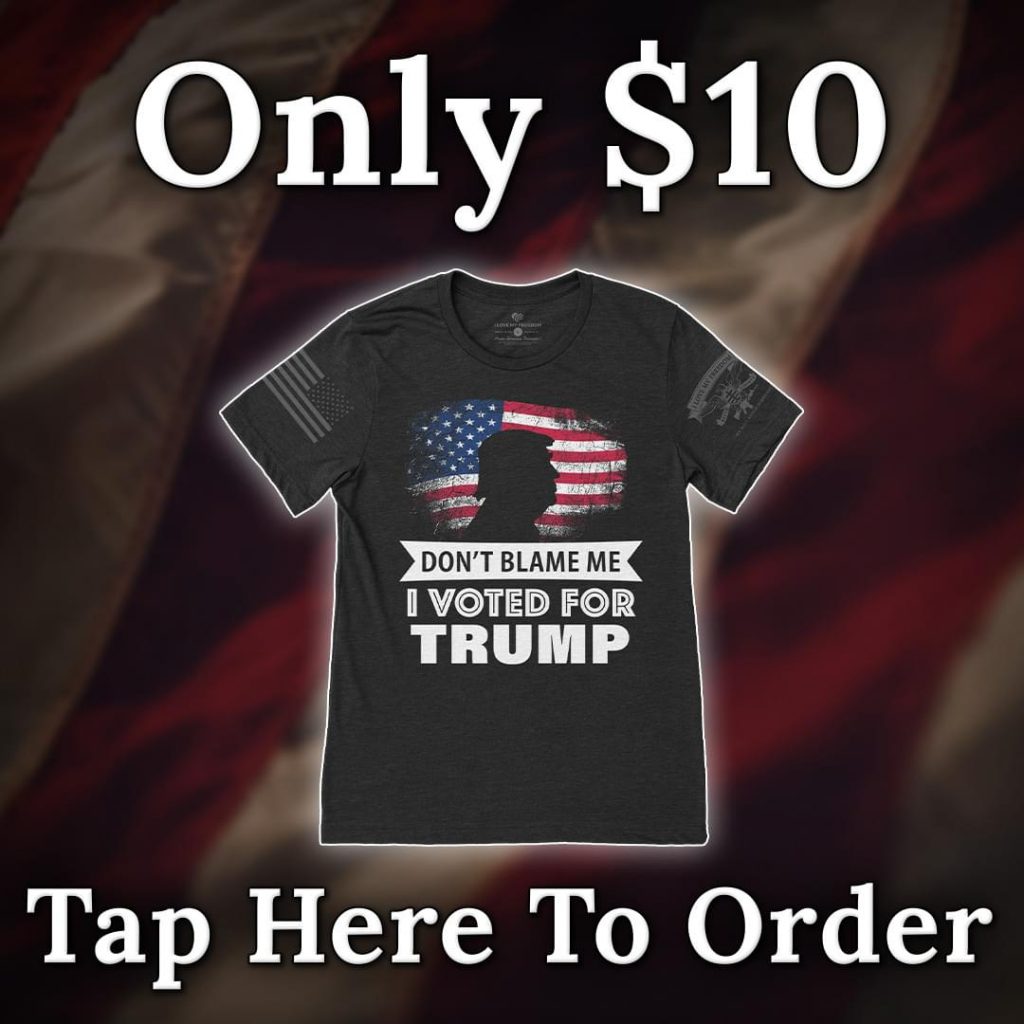 Go here now to Claim Your 'Don't Blame Me I Voted For Trump' Flag while supplies last! 
BLM Blast Pelosi for George Floyd Comments: 'So Damn Disrespectful'
Following the guilty verdict for former officer Derek Chauvin in the death of George Floyd, House Speaker Nancy Pelosi thanked Floyd for "sacrificing" his life for justice. Now Black Lives Matter activists are blasting her, calling her comments "so damn disrespectful."
"This is so damn disrespectful. George Floyd didn't choose to die @speakerpelosi. He was murdered by a killer cop operating through white supremacy," wrote the official Black Lives Matter Twitter account, "There isn't justice here":
George W. Bush Reveals Who He Voted For in 2020 Election
There are many people who probably assumed that noted Never Trumper and establishment politician George W. Bush voted for Joe Biden in the 2020 eleciton. During an interview with People magazine, the former president revealed who he voted for: Condoleezza Rice.
"She knows it," Bush told the magazine, referring to Rice, . "But she told me she would refuse to accept the office."
Cincinnati Bar Won't Play NBA Games Until LeBron James is 'Expelled'
A West Side Cincinnati bar has announced that they will no longer show NBA games on their televisions due to the comments that LeBron James made about the fatal police shooting in Columbus.
Owner Jay Linneman said that they will resume showing games at Linne's Pub when James get "expelled" from the league.
MSNBC's Reid: Gov. DeSantis Is 'Modern-Day George Wallace'
Everything, and I mean everything, is about race when it comes to Democrats!
On Thursday, MSNBC host Joy Reid declared that Florida Governor Ron DeSantis is a "modern-day" version of segregationist Governor George Wallace. Her grossly false description is in response to the state's new anti-rioting law.
Biden Halts Fining Illegal Aliens, Cancels Their Debt
The United States is probably the only country in the world where you can break the law and be rewarded for it....at least when Democrats are in charge anyway.
According to reports, President Joe Biden's Department of Homeland Security (DHS) will no longer fine illegal immigrants who refuse to leave the United States.
Maskholes: Pregnant, Nursing Mom Escorted from Church by Police for Not Wearing Mask
A pregnant Texas mother was escorted from the Holy Trinity Catholic Church in Dallas and slapped with a trespassing warning, all for not wearing a mask like an obedient little sheep.
"I mean, you're going to arrest a 28-year-old nursing mom who's already socially distanced? I mean it proves that it's not really about the health. It's just about control," said Deirdre Hairston.
Fauci: Wearing Mask is a 'Symbol' of Your Obedience
On Wednesday, National Institute of Allergy and Infectious Diseases director Anthony Fauci said on CNN's "Newsroom" that he wearing a mask is a "symbol" of what we "should be doing" in public. In other words, wearing a mask shows just how obedient you are.
Fauci said, "I think we should be recommending it. As you know, I wear it whenever I'm outside. We can try and keep the usual distance, but sometimes it is out of your control. So there are some fundamental things that we can do, we're very aware of and sensitive to the need to try and make those steps towards reopening."
Florida House Moves to Ban Abortions Based on Disability
Florida's House is moving to ban abortions based on disability. This means that doctors in the sunshine state will be banned from performing abortions if the woman getting the procedure is doing so because of a disability diagnosis of the baby.
If a doctor does perform an abortion based solely on physical or mental disability, then they will be guilty go a third degree felony, which is punishable up to five years in prison.
Comments
comments