CNN's chief media correspondent Brian Stelter is under fire according to the attorney of Nicholas Sandmann of Covington Catholic High School.
Sandmann settled his defamation lawsuit with The Washington Post for $250 million. This was due to the botched coverage of the viral confrontation between Sandmann and a Native American. Sandmann settled with CNN back in January.
Lin Wood, the attorney of Sandmann, found a retweet from Brian Stelter that speculated how much money the teen walked away from the settlement with.
"Those with zero legal experience (as far as I can tell) should not be conjecturing on lawsuits they know nothing about. What kind of journalism is that?" Zaid asked. "I've litigated defamation cases. [Sandmann] was undoubtedly paid nuisance value settlement & nothing more."
Wood accused Stelter of breaching the confidential agreement between CNN and Sandmann.
"This retweet by @brianstelter may have cost him his job at @CNN. It is called breach of confidentiality agreement. Brian Stelter is a liar. I know how to deal with liars," Wood tweeted and accompanies it with a screenshot of the retweet.
This retweet by @brianstelter may have cost him his job at @CNN. It is called breach of confidentiality agreement. Brian Stelter is a liar. I know how to deal with liars. pic.twitter.com/1VHxby9gim

— Lin Wood (@LLinWood) July 27, 2020
Sandmann took to Twitter to take a shot at Brian Stelter questioning whether it's worse to be Brian Stelter or believe Brian Stelter.
I can't decide if it's worse to be Brian Stelter or believe Brian Stelter.

He was never in any court hearing or meeting I was. So why does he act like he knows anything? https://t.co/2QdUuH5bkZ

— Nicholas Sandmann (@N1ckSandmann) July 27, 2020
Stelter wasn't the only CNN employee in on this as CNN analyst Asha Rangappa chimed in with her estimate on what it cost for Sandmann to go away.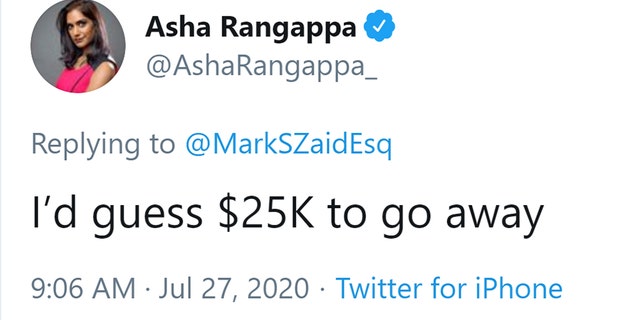 The far-left news outlets made some costly mistakes after the exchange between Sandmann and the Native American man. Did they learn a lesson? Time will tell.
Trending Political News
FAIL: Black Lives Matter Moron Shoots At Motorist, Hits Protester Instead (VIDEO)
Over the weekend in Aurora, Colorado, the Black Lives Matter protesters proved once again how terribly violent creatures they are.
Honestly, I'd like to believe that the movement is just being hijacked by a bunch of idiotic white Antifa kids, but I don't see anyone denouncing this violence from the organization.
Sheriff's Office Confirms There WILL Be Charges Filed Against BLM Supporter Who Kneeled on Neck of White Baby
Occasionally, I come across some current events that I just refuse to write about for some reason.
More often than not, I choose not to write on something because I find it too sad or depressing to write about and I don't even want to know the details of what happened.
Navy Veteran Raises More Than $3 Million In Bid To Dethrone This Long-Time House Democrat
There are at least a dozen or more Democrats that definitely need to hit the road after this upcoming election. Truth be told, all of them need to go, but that's almost impossible.
Nancy Pelosi, Alexandria Ocasio-Cortez, Ilhan Omar, Rashida Tlaib, Adam Schiff, Debbie Wasserman-Schultz, Hank Johnson, Sheila Jackson Lee, Al Green...and that's just to name a few of them, but they all are long overdue for a new job.
HIDDEN CAMERA: Hollywood Actor Gets Visit from Secret Service After Making Threatening Tweet
If you were wondering how deep Trump Derangement Syndrome can run, well look no further than this.
The sad truth is that most liberals hate President Trump so much that they end up making threats against either the President, his family, or his supporters. None of which are acceptable in a civilized society.
Spurs' Gregg Popovich: BLM Critics are 'Just Ignorant'
On Monday, San Antonio Spurs coach Gregg Popovich declared that those who are "offended" by the marxist Black Lives Matter movement are "just ignorant."
"It's no different for me than it is to anybody else who cares about justice and who can be empathetic to the fact that justice has been denied to a group of people for far too long. And enough is enough," the coach ranted. "Everybody's tired of it, especially the group that has been degraded and savaged for so long. People who don't understand Black Lives Matter or are offended by it are just ignorant."
Stacey Abrams Cries: 'Racism' Runs Through the Republican Party
Boo-hoo! Sore loser Stacey Abrams, who lost to Brian Kemp in the Georgia Democratic gubernatorial election, is constantly crying and whining about President Donald Trump and the Republican Party.
On Monday, during MSNBC's "The ReidOut," Abrams had a meltdown about the bill introduced by Senator Tom Cotton, in which he wants to cut funding from teaching a history that America was founded on slavery.
Comments
comments