Need a tear jerker today? Look no further! An Arizona police officer went beyond his duty to serve when he gave a forever home to a little girl he rescued from an abuse call.
ABC 11 reports that Kingman Police Department lieutenant Brian Zach was working a night shift when he answered a call to check on a home in 2017. During that call, he met Kaila, and he sensed that she was in danger so he called for an investigation.
Zach reportedly found the little girl injured badly, and noted that this is the third time that home had been reported to the Kingman PD for abuse.
"I went there and realized that her injuries were definitely abuse and they needed to be investigated," he said. "I took care of her, took her back to the station … We watched 'Wreck-It Ralph,' and we just bonded."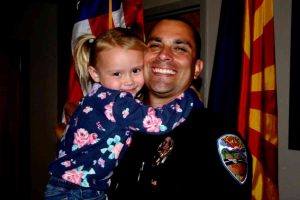 Although he was already a father of two older children at the time, the officer said that he could not shake the thought of Kaila and her troubling circumstance.
"When I came home that night, I told my wife about this little adorable girl that we got to meet and I wanted to just bring her home," Zach said. A short while later, Child Protective Services needed a foster home for Kaila, and the Zach family jumped at the chance.
"We gave her love and care and not knowing when she would go back—if at all. And we just took each day at a time," Zach said.
Her temporary stay with the Zachs turned from days to years. In August of 2020, the family was finally able to start the adoption process to officially make Kaila their daughter.
"The best thing to come out of 2020 is the fact that we gained an official member of our family," Zach said. "That was my Christmas present."
Kaila only had one thing to say to the outlet about the man who saved her life: "I love him — I love him so much."
Trending Political News
Trump Declares Texas Case 'The Big One' Before U.S. Supreme Court
On Wednesday, President Donald Trump declared that the legal challengeaccepted by the state of Texas, and filed directly to the U.S. Supreme Court, is "the big one" that will help to show the real election results.
"We will be INTERVENING in the Texas (plus many other states) case," he wrote on Twitter. "This is the big one. Our Country needs a victory!"
Sen. John Barrasso: 'Biden Off to Very Rocky Start' with Cabinet Picks
On Wednesday, Senate Republican Conference Chair Senator John Barrasso appreared on Fox News Channel to discuss the election results.
He declared that Republicans keep the majority of the Senate so "we have much more of a say in who is in a Cabinet," and that "Joe Biden is off to a very rocky start" with his picks.
Here We Go Again - CHAZ 2.0 Organizes in Portland, But For A Different Reason
Just when you think things were on the brink of possibly getting better and that we could turn a positive corner heading into 2021, it looks like we've actually gone back in time about 6 months.
Remember Portland, Oregon earlier this summer? Remember CHAZ/CHOP? The autonomous zone that the terrorists of Antifa and Black Lives Matter established? Well, it's back.
Unhinged Michigan Democratic State Rep Who Called Witnesses Liar During Hearing Threatens Trump Supporters, 'Make Them Pay'
The Trump legal team has been participating in a number of public hearings in the states that have been rampant with the most amount of fraud, which just happens to be the key battleground states.
One of these public hearings was in Michigan before the Senate Oversight Committee.
Massive Georgia Lawsuit Reveals Underage Voters, Felons, and That's Not All…
One single solitary illegal vote being counted in our elections is a disgrace and a threat to our democracy.
Millions of illegal votes, including more than 200,000 in the state of Georgia alone. Democrats don't care about the integrity of our election process, they are entirely blinded by their hatred for President Trump and will stop at nothing to get rid of him.
WATCH: China Doesn't Want You to See This Video, Spies Have Infiltrated Inner Circle of America
There is something big going down in Congress right now.
Currently, we're being distracted by the election fraud drama going on right now, and that's understandable.
Comments
comments