Twitter, like Facebook has in the past, has decided they need to "protect" election results by suppressing what they determine to be "misinformation" by delivering news they curate to their customers.
The 2020 election was the first time big tech companies like Facebook, Google and Twitter had "election integrity" policies. One of the pivotal decision of these social media companies was to completely bury the Hunter Biden story leading up to the election.
Twitter rolls out election misinformation rules ahead of US midterms https://t.co/p7eMD4c6s5 pic.twitter.com/f6xp1CYoxx

— New York Post (@nypost) August 11, 2022
That story was labeled "misinformation" and was unable to be shared on Twitter.
Twitter has announced plans for its Civic Integrity Policy:
The Civic Integrity Policy covers the most common types of harmful misleading information about elections and civic events, such as: claims about how to participate in a civic process like how to vote, misleading content intended to intimidate or dissuade people from participating in the election, and misleading claims intended to undermine public confidence in an election – including false information about the outcome of the election. Tweets with this content may be labeled with links to credible information or helpful context, and Twitter will not recommend or amplify this content in areas of the product where Twitter makes recommendations. People on Twitter will see a prompt prior to liking or sharing labeled tweets, and in cases where there is potential for harm associated with the false or misleading claim, the Tweet may not be liked or shared to prevent the spread of the misleading information.
Twitter will also distribute "state-specific hubs" where the platform will handpick content related to state and local political races.
It appears the big tech companies are very fearful of the incoming red wave and are taking action to keep it from happening.
Trending Stories
Episcopal Church Comes Out With Stunning Stance on Sex Changes
The Episcopal Church has come out with a stunning stance with regards to sex changes, even for children. The Episcopal Church is now supportive of sex changes "at all ages," calling it a matter of "religious liberty."
Resolution D066 calls for the Episcopal Church to "advocate for access to gender affirming care in all forms (social, medical, or any other) and at all ages." It also says that backing sex changes is "part of our Baptismal call to respect the dignity of every human being."
UFC President Dana White Gives His Thoughts on the Mar-a-Lago FBI Raid
UFC President Dana White has a long-time relationship with President Donald Trump that goes back to the early days of the UFC. Not only White but several other UFC fighters had Trump's back when it comes to the Mar-a-Lago raid by the FBI.
When White was asked about the raid during a press conference on Tuesday, it was clear whose side White was on.
Do You Stand With Trump or the FBI?
President Trump is under constant attack from the left. Take advantage of this special offer and show your support for President Trump.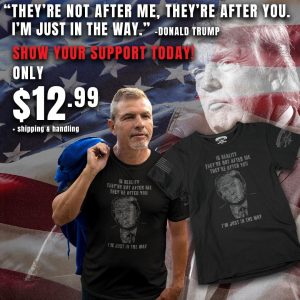 WAIT, WHAT!? Conservative Country Star John Rich Thanks Biden's FBI After Trump Raid
Conservative country music star John Rich reacted to the news of the FBI raid of former President Trump's Mar-a-Lago home with a "big thank you."
Rich, of the country music duo Big & Rich, followed that up with "see you in November!" at the end of his tweet regarding the raid.
Biden Gets Brought Back to Reality After His 'Zero Inflation' Claim
Once again on Wednesday, President Joe Biden showed how out of touch he is with reality when he made the claim there was "zero inflation in the month of July."
Before a bill signing ceremony, Biden appeared to go off script and brag about his failing economy.
Crooked Hillary Attempts to Profit from Mar-a-Lago FBI Raid
Hillary Clinton likes to give us the occasional reminder that she's still around and still awful. In her latest venture, Crooked Hillary attempts to profit from the FBI raid of Mar-a-Lago.
While many people are concerned about the FBI raiding Mar-a-Lago, those on the left are trying to exploit the event. Former Secretary of State Hillary Clinton attempted to use this moment to turn a profit.
Comments
comments