The Associated Press just called Wisconsin a win for Joe Biden, but there appears to be some SERIOUS voter fraud going on.
They just called Wisconsin for Joe Biden.

— Brian Schatz (@brianschatz) November 4, 2020
There is no way that votes in Wisconsin and Michigan suddenly just shot straight up for Joe Biden without, without adding any votes for President Donald Trump.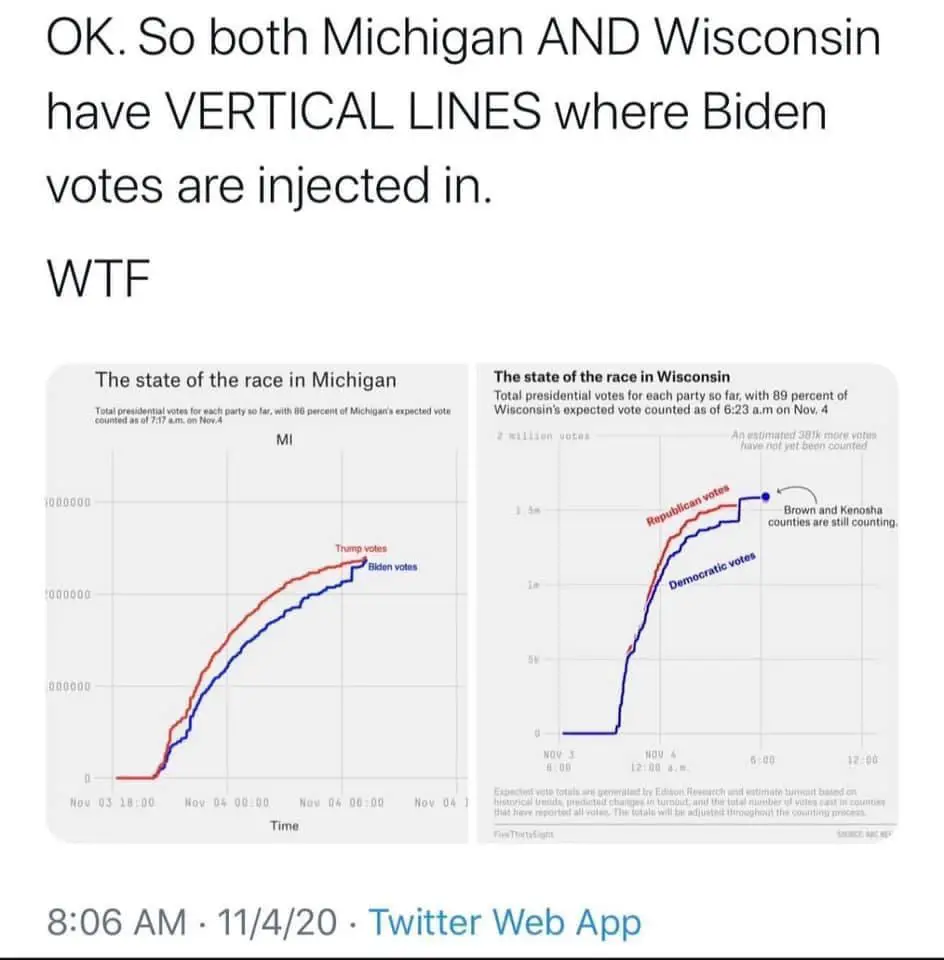 I don't buy it, and neither does Trump.
On Wednesday, the president's campaign announced that they will "immediately" request a recount in Wisconsin after the state's shady votes appear to turn the state blue.
"Despite ridiculous public polling used as a voter suppression tactic, Wisconsin has been a razor thin race as we always knew that it would be," said Trump campaign manager Bill Stepien.
"There have been reports of irregularities in several Wisconsin counties which raise serious doubts about the validity of the results," he continued. "The President is well within the threshold to request a recount and we will immediately do so."
MSN reports:
Trump won Wisconsin's 10 electoral votes by 1 percentage point in 2016. Along with Michigan and Pennsylvania, the state was one of three Great Lakes-area battlegrounds he flipped to secure his Electoral College victory over then-Democratic nominee Hillary Clinton.
But Biden now leads Trump in Wisconsin by less than 1 percentage point, with 95 percent of the expected vote tallied, according to the latest totals. State election officials are still working through adding up the vast number of mail-in ballots submitted this year amid the coronavirus pandemic.
I think we need a recount in Wisconsin for sure, and likely Michigan and Virginia as well.
Trending Political News
White House Barriers Go Up in Preparation of Election
Across the country, businesses are boarding in preparation for the presidential election. If Biden wins, the streets will not fill with rioters and looters. However, if President Donald Trump is re-elected, the party of love and acceptance will burn down their cities.
A barrier went up at the White House as well, in order to protect the president when the riots start.
Report: No Traditional Macy's Thanksgiving Day Parade This Year
For as long as I can remember, we have watched the Macy's Thanksgiving Day Parade on television every single year. Unfortunately, New York City Mayor Bill de Blasio announced that we will not get a traditional parade this year.
It won't be canceled completely, De Blasio stated, but "it will be a different kind of event. They're reinventing the event for this moment in history, and you'll be able to feel the spirit and the joy of that day on television, online. Not a live parade but something that will really give us that warmth and that great feeling we have on Thanksgiving Day."
HARD EVIDENCE! Proof of Payments Show Bidens Made Millions from China
It's so absurd that Democrats refuse to even consider the evidence and consider the possibility that there is some truth to the laptop that came from Hunter Biden.
Hunter's former business associate, Tony Bobulinski, has been working with the FBI in this, and hopefully, they'll be taking action against the Bidens.
Governor Newsom's Tyranny Put to an End by Judge
Well, it's about time! It looks like someone is finally doing something to stop the tyranny in California.
Governor Gavin Newsom has ordered some absolutely insane orders since the start of the coronavirus pandemic.
Hunter Biden's Laptop Was Kept 'Safe' by Easily Hackable Password
Hunter Biden's laptop and hard drive, which was leaked by the laptop repairman in Delaware.
This little piece of technology has been shown to contain very sensitive and damning information.
ELECTION TAMPERING! Poll Watcher Blocked from Doing His Job in Key Battleground State
The Trump campaign has been doing everything they can to try and guarantee the integrity of the election.
Honestly, that all we as Conservatives want, but all Democrats want is a win at any cost.
Comments
comments