A search warrant viewed by Politico shows that President Trump is under investigation for a potential violation of the Espionage Act and removed classified documents from the former president's Florida estate earlier this week.
BREAKING: A copy of the warrant obtained by Politico also shows the former president is being investigated for removing or destroying records and obstructing an investigation. https://t.co/qgVk1JeVdf

— HuffPost (@HuffPost) August 12, 2022
Politico also viewed a receipt with the warrant that showed among the documents Trump held was a handwritten note marked "TS/SCI," which indicates a very high level of government classification. Another item was labeled "Info re: President of France."
There have also been reports that Trump leaked the warrant to Breitbart.
Breitbart has obtained copy of the warrant and inventory list for the FBI's search of Trump's Mar-a-Largo. Hmm, wonder who gave it to them? https://t.co/ppMHaHar6G

— Roger Simmons (@RogerSimmons) August 12, 2022
The warrant indicates that Trump was under investigation for removal or destruction of records, obstruction of an investigation, and violating the Espionage Act. If he were to be convicted it could result in fines or imprisonment.
Trump spokesman Taylor Budowich described the raid by the FBI as "not just unprecedented, but unnecessary -- and now they are leaking lies and innuendos to try to explain away the weaponization of government against their dominant political opponent. This is outrageous."
Trending Stories
Episcopal Church Comes Out With Stunning Stance on Sex Changes
The Episcopal Church has come out with a stunning stance with regards to sex changes, even for children. The Episcopal Church is now supportive of sex changes "at all ages," calling it a matter of "religious liberty."
Resolution D066 calls for the Episcopal Church to "advocate for access to gender affirming care in all forms (social, medical, or any other) and at all ages." It also says that backing sex changes is "part of our Baptismal call to respect the dignity of every human being."
UFC President Dana White Gives His Thoughts on the Mar-a-Lago FBI Raid
UFC President Dana White has a long-time relationship with President Donald Trump that goes back to the early days of the UFC. Not only White but several other UFC fighters had Trump's back when it comes to the Mar-a-Lago raid by the FBI.
When White was asked about the raid during a press conference on Tuesday, it was clear whose side White was on.
Do You Stand With Trump or the FBI?
President Trump is under constant attack from the left. Take advantage of this special offer and show your support for President Trump.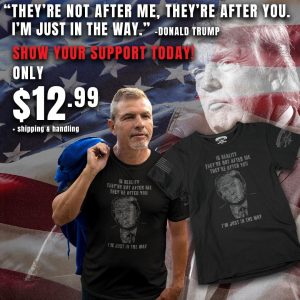 WAIT, WHAT!? Conservative Country Star John Rich Thanks Biden's FBI After Trump Raid
Conservative country music star John Rich reacted to the news of the FBI raid of former President Trump's Mar-a-Lago home with a "big thank you."
Rich, of the country music duo Big & Rich, followed that up with "see you in November!" at the end of his tweet regarding the raid.
Biden Gets Brought Back to Reality After His 'Zero Inflation' Claim
Once again on Wednesday, President Joe Biden showed how out of touch he is with reality when he made the claim there was "zero inflation in the month of July."
Before a bill signing ceremony, Biden appeared to go off script and brag about his failing economy.
Crooked Hillary Attempts to Profit from Mar-a-Lago FBI Raid
Hillary Clinton likes to give us the occasional reminder that she's still around and still awful. In her latest venture, Crooked Hillary attempts to profit from the FBI raid of Mar-a-Lago.
While many people are concerned about the FBI raiding Mar-a-Lago, those on the left are trying to exploit the event. Former Secretary of State Hillary Clinton attempted to use this moment to turn a profit.
Comments
comments