Demi Moore, Sharon Stone, and Jane Seymour are demonstrating that age doesn't limit your ability to confidently showcase your physique.
These esteemed Hollywood personalities have been utilizing Instagram in recent years as a platform to inspire younger generations to appreciate their bodies and find comfort in their own skin.
Here's a glimpse of these glamorous women over 60, rocking their bikini looks.
Earlier this year, Sharon Stone exhibited a playful side, sharing a mirror selfie in which she sported a green leopard print bikini. With her disheveled hair and black sunglasses, she exuded an effortless cool vibe.
It's not the first instance where the 65-year-old "Basic Instinct" actress has flaunted her body. Back in July 2022, Stone shared an image of herself donning the same green leopard print bikini bottoms, this time choosing to go without the top.
She tastefully covered her upper body with a towel as she stood by the poolside, looking skywards and laughing. She captioned the post with a simple yet powerful message, "Gratefully Imperfect on a Perfect Day."
 

View this post on Instagram

 
During her summer 2022 vacation, Demi Moore enthusiastically embraced the opportunity to share pictures of herself basking in the sunlight, simultaneously flaunting her slender physique.
In September, the 60-year-old star of "Ghost" took to Instagram to post a sequence of photos that captured her enjoying a delightful time on a boat. She was sporting a chic white halter bikini top complemented with matching high-waisted bottoms.
Before celebrating her 60th birthday in November 2022, Demi Moore engaged in a conversation with People, opening up about her perspective on aging. She shared that she experiences a sense of liberation when she releases the apprehension associated with growing older.
 

View this post on Instagram

 
Jane Seymour ushered in the summer season with a vacation trip to Greece.
In June, the vibrant 72-year-old shared a photo of herself on a boat, dressed in a blue swimsuit and sporting a wide-brimmed sun hat. She welcomed the summer season enthusiastically with a radiant smile and her arms joyfully raised in the air.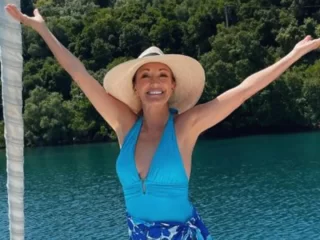 Trending Political News
Dad Shows Exactly What Not to Do When Chasing a Foul Ball
Regardless of the level of baseball being played, spectators invariably scramble for a foul ball. However, the enthusiasm of fans can occasionally escalate beyond expected bounds.
This was notably illustrated by the actions of a particular father during a regional college baseball knockout match between the Campbell Fighting Camels and the N.C. State Wolfpack. The event occurred on a Sunday afternoon in Columbia, South Carolina.
Chaos Erupts at Pride Event at California Elementary School
A father from California has decided to stage a boycott against his daughters' school due to what he perceives as a disregard for parental concerns regarding a Pride event. Frustrated by the school officials' alleged negligence, he voiced his dissatisfaction and expressed his intention to withhold his children from attending until he could have a direct conversation with the school administration.
This stance resonated with numerous parents, leading to protests and confrontations between angered parents and counter-protesters outside Saticoy Elementary School in North Hollywood. The clash unfolded on the same day as the controversial assembly that had sparked a significant uproar within the community.
Stephen A. Smith Makes Surprising Statement About 2024 Election
In a recent episode of "The Stephen A. Smith Show," popular ESPN personality Stephen A. Smith has urged Democrats to put forward a stronger candidate for the upcoming 2024 presidential election.
Smith expressed his concerns about President Joe Biden's age, who is currently 80 years old, suggesting that re-electing him may not be the best choice. Smith also discussed the incident where Biden stumbled over a sandbag during the Air Force Academy's commencement ceremony, reflecting on its implications.
Casey DeSantis Trashed in Hit Piece: 'Walmart Melania'
The frequent criticisms of Casey DeSantis by mainstream media have provoked strong reactions from conservative women, many of whom believe that the left-leaning commentators perceive her as a potential obstacle in the upcoming 2024 presidential election.
Over the weekend, The Daily Beast released an opinion piece where the First Lady of Florida was referred to as the "Walmart Melania", following her appearance in Iowa in a jacket with the phrase, "Where woke goes to die" printed on the back.
NBC Removes Longtime Host From Show Due to Failing Ratings
Chuck Todd, host of NBC's "Meet the Press," made an announcement on Sunday revealing his decision to step away from the show. The reason behind this move is the program's struggle to attract as many viewers as its competitors on ABC and CBS.
In expressing his departure, Todd emphasized his preference to leave a little earlier rather than overstay his welcome. He mentioned that he will be leaving the program later this year. Throughout 2023, "Meet the Press" has maintained an average viewership of 2.5 million, falling behind ABC's "This Week" with 2.6 million viewers and CBS' "Face the Nation" with 2.9 million viewers.
Chicago Walgreens Redesigns Store to Battle Shoplifting
According to Block Club Chicago, a Walgreens store in Chicago has been redesigned, limiting customer access to only two aisles of products beyond anti-theft detectors.
Most merchandise in the store, located at 2 E. Roosevelt Road in the South Loop area, has been moved behind staffed counters. Customers can now digitally browse and shop for these items through interactive kiosks.
Comments
comments