According to the website of Le Creuset, the brand has been producing vibrant cookware since 1925.
Many Costco enthusiasts expressed their surprise on social media upon seeing this particular brand for sale, as it seems to have gained popularity among culinary experts and aficionados.
A finance and tech content producer recently shared in an X post, which has now amassed over 21.5 million views, that Costco is offering a "Le Creuset 157-piece Ultimate Cookware Set" priced at $4,499.99.
The post on X states, "Includes Dutch ovens, dinnerware, French press, utensils, 6 assorted frying & saucepans, two stockpots, kettle, & more - 1 to 2 weeks to deliver - Costco also offers a L.C. 9 pc. stainless steel collection for $500, 9 pc. nonstick collection for $400, & a 21 pc. stainless steel collection for $1,400."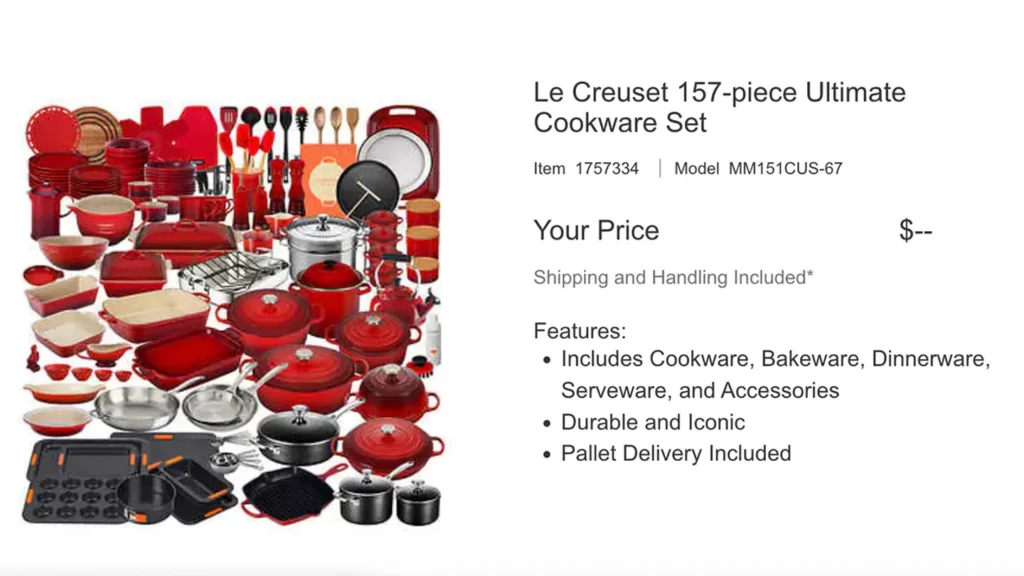 The cost of this bundle is steep, yet each piece breaks down to less than $27 per kitchen tool — a value seldom associated with a Le Creuset item.
Devotees of the French cookware brand and the bulk retailer have already cleared its online stock.
Trying to view the 157-piece set on Costco.com results in the product having "broken the internet" with a 404 error code.
Internet goes wild over Costco's 157-piece Le Creuset set for $4,500 https://t.co/VIWtpWhtuM

— FOX 32 News (@fox32news) October 21, 2023
According to the wholesaler's website, this offer encompasses cookware, bakeware, dinnerware, serveware, and additional accessories.
The product's description elaborates, "This exclusive set includes cast iron, stoneware, stainless steel, toughened non-stick PRO, silicone and much more."
Given the extensive size of the delivery, Costco provides a "pallet delivery" when one buys the item.
While other Le Creuset products remain accessible online, certain items are exclusive to members only.
Trending Political News
Bruce Willis' Wife Gives Heartbreaking Update of Husband's Condition
In a candid recent interview, Emma Heming, Bruce Willis' wife, confessed that it's challenging to ascertain her husband's awareness of his dementia. In March 2022, Willis shared with the public his retirement from acting due to a diagnosis of aphasia. Since then, the Willis family has disclosed that the actor's health has progressed to frontotemporal dementia.
"What I'm learning is that dementia is hard. It's hard on the person diagnosed. It's also hard on the family. And that is no different for Bruce or myself or our girls," Heming said. "And when they say that this is a 'family disease' it really is."
Costco Puts a Limit on Purchases After Quickly Selling Out of New Offering
Whenever Costco lists a certain shiny item for sale online, it's said to sell out rapidly. The wholesaler has made gold bars available on its website, allowing Costco members to invest in them.
"I've gotten a couple of calls that people have seen online that we've been selling one-ounce gold bars," Richard Galanti, Costco's chief financial officer, mentioned to investors in the retailer's fourth-quarter earnings call.
Bad News for Canadian Prime Minster Justin Trudeau
The Canadian Prime Minister, Justin Trudeau, and his spouse, Sophie Grégoire Trudeau, are parting ways, as revealed by Trudeau himself via his Instagram account on Wednesday.
In Trudeau's words, following "many meaningful and difficult conversations" with Sophie, they have "made the decision to separate."
McDonald's Gets Back Into Haloween Spirit With Return of Iconic Product
McDonald's is gearing up to embrace the Halloween vibe with the reintroduction of their "Boo Buckets!" After making a comeback last year, following a six-year break, the fast-food giant is set to roll out these buckets again starting October 17. During this season, the customary paper packaging for kids' Happy Meals is swapped out for these festive plastic containers.
Renowned for their charming and seasonal patterns, this year patrons have a choice among four distinct "Boo Bucket" designs: the Mummy in white, the Skeleton in orange, the Monster in green, and the Vampire in purple.
Jenny McCarthy's Bikini Photo Shoot Drew Incredible Reaction From Her Husband
Jenny McCarthy believed her bikini-wearing days were behind her until Kim Kardashian's SKIMS brand approached her.
Earlier this year, the "Masked Singer" panelist collaborated with ex-Playboy model Carmen Electra for the brand's swimwear promotion.
Mike Rowe Fires Back After Being Told to 'Stay in Your Lane' With Regards to Women's Rights
Mike Rowe responded after receiving advice to "stay in your lane" when he expressed support for conservative podcast host Megyn Kelly. Kelly had cautioned Apple about potentially removing her from their platform due to her perspectives on women's spaces and transgender rights.
On Facebook, the "Dirty Jobs" presenter mentioned a video he had shared earlier from "The Megyn Kelly Show." In that video, Rowe highlighted Kelly's statement: "she vowed to march against the policies of Apple if they removed her from their platform."
Comments
comments